FSX: Choosing the right Simconnect version
In the FSX world, FSXPilot mainly supports four flight simulator versions:
FSX

FSX Steam edition

Prepar3D
Each simulation needs it's own specific version of a file called "simconnect.dll" in FSXPilot's home directory.
Simconnect is necessary for a proper communication between FSXPilot and FSX or P3D.
To test that, we have the following
Method
start FSX, load an aircraft
start FSXPilot
press AP main button
Result
The normal result is an an audio signal and display of NAV targets on the EFIS like here: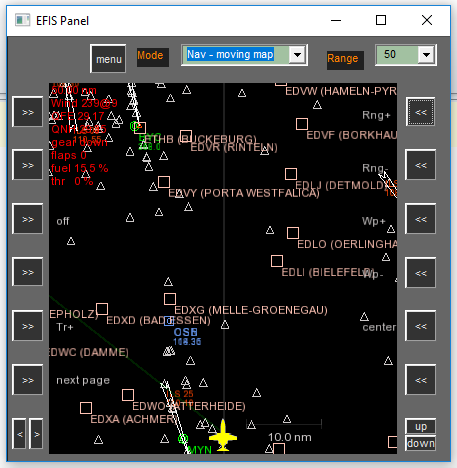 CAVEAT
If you do not see those targets (black screen only) FSXPilot will probably not be able to communicate with FSX because of a wrong Simconnect version.
In this case, please replace the simconnect.dll file present in FSXPilot home directory with a different version.
In FSXPilot home directory, we have a sub folder named "Simconnect alternate versions". In here we have the RTM retail, the SP1 and the XPACK version of simconnect.dll.
Please replace the simconnect.dll in FSXPilot's main folder by a different copy from the "Simconnect alternate version" folder.
Normal FSX: use the default simconnect.dll
P3D: use the RTM retail or the SP1 version of simconnect.dll
FSX Steam: use the XPACK version of simconnect.dll
Created with the Personal Edition of HelpNDoc: Easily create CHM Help documents