Flying a STAR
A STAR is a standard arrival route.
Usually, upon contacting the approach position of the ATC, the controller will give a certain STAR which will be your arrival route to your destination airport.
With FSXPilot you can fly basic STAR's with no problem. The AIRAC of FSXpilot contains a star.txt file which contains all the necessary STAR information.
After selection of your destination airport, FSXPilot will determine the available STAR's to that airport and display them in the quickselect menu.
Method:
Press the "menu" button on the EFIS and select
select airport or

select near airport

use one of the airports from your airport bookmarks or
OR
type "select <ICAO>" or "farselect ICAO" into the command input box of the AP panel
Press the "menu" button on the EFIS again and select the required STAR (the one that the ATC controller told you to use) from "fly STAR....".
If you have no ATC controller - which STAR should you use ? This depends on your aircraft position and your landing intentions.
The quickselect menu displays each STAR with it's individual distance of the first waypoint of the STAR and your aircraft.
Choose the closest one available. From the close ones, choose the one which leads to your desired destination runway.
Result:
FSXPilot will turn towards the first waypoint of the STAR and fly all waypoints one after each other.
After the last waypoint of the STAR, FSXPilot will remain on current heading, speed and altitude and issue the message 'please resume own navigation'.
From here, you would select your landing runway and landing method.
In a flight plan, the routine will pass the control back to the flight plan and the next flight plan command is executed.
CAVEAT:
Usually, a STAR has altitude restriction. These are not effective in FSXPilot. It is the responsibility of the pilot to set appropriate altitudes.
Small airports may not have STAR's.
In that case, the STAR menu will be empty.
(image shows old version of EFIS panel)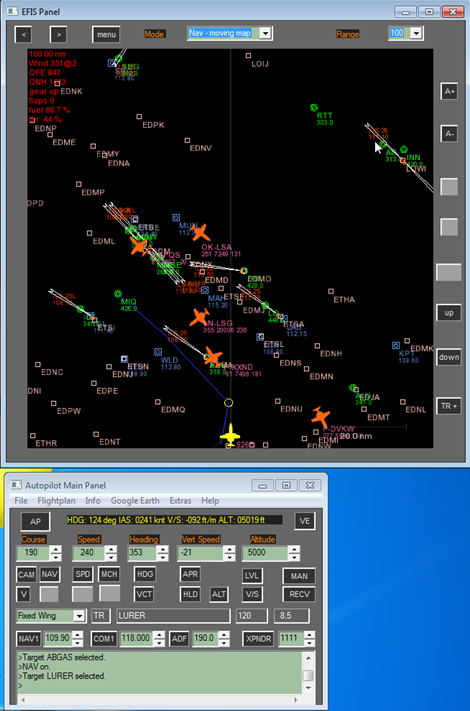 Created with the Personal Edition of HelpNDoc: Easily create Help documents